You can navigate between features in the app using the feature menu: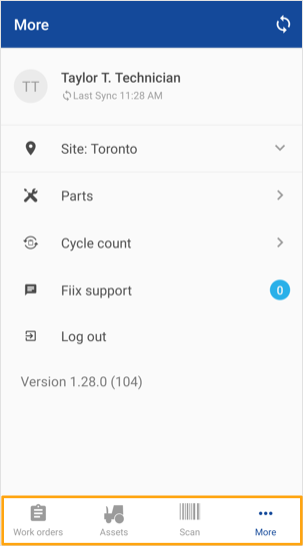 Here's what you'll find in each feature:
| Feature | Description |
| --- | --- |
| | View and update your work orders. |
| | View and update asset information. |
| | Open an asset, work order, or part quickly by scanning its barcode. |
| More | View the app version and access the following additional features: |
Want to learn more about these features? Use the links in the table above to navigate directly to additional information about these areas of the app.
Note
The iOS app has an additional icon in the feature menu: a plus sign (+) that you can tap to add new items. Depending on which area of the app you're in, the item you're adding changes. In the Android app, this icon isn't displayed in the feature menu. Instead, the icon "floats" on top of the feature you're using, and is only displayed if you're in an area of the app where you can add something.