Before you begin
Records that contain special characters (commas, quotation marks, etc.) can result in corrupted data, and can even cause imports to fail. To learn more about special characters in import files, see Troubleshooting Imports.

When importing, any columns that you leave blank will result in blank records, as they are not auto-populated by the CMMS. To prevent unexpected issues, we suggest removing any columns you don't need to update.

Aisle, Row, or Bin information can't be updated in existing records because the information is used to uniquely identify a stock location (there can be multiple stock areas at a single location). To learn more about the fields that can be imported, see Data import overview.
To update parts and supplies using the import tool:
1. Navigate to Reports, search for Stock List (Unformatted), and select the report.
2. Click the Run button.
3. In the Render in Format drop-down list, select Excel Spreadsheet.
4. Click the Run button.
5. Open the Excel file and remove all columns except any you want to update and the following required columns:
Stock Item

Part Code

Location Name

Aisle

Row

Bin
The example below shows the columns needed to update an item's available quantity in inventory.

6. Enter your updated information into the sheet.
In the following example, we updated the Qty on Hand for the item "Screwdrivers". Once imported, the existing record for Screwdrivers will be updated with its total available quantity.

7. Once your adjustments have been made, save as a CSV file and return to Fiix.
8. In Supplies > Parts and Supplies, click the Import button.

9. Click Upload.
10. Choose the file and click Continue.
11. Define the field mappings by matching the text on the left, which is extracted from your file's column titles, to the CMMS fields on the right. The extracted column titles might not match the CMMS fields, but will represent the same information. For example, "Stock Item" would be mapped to "Parts & Supplies Name".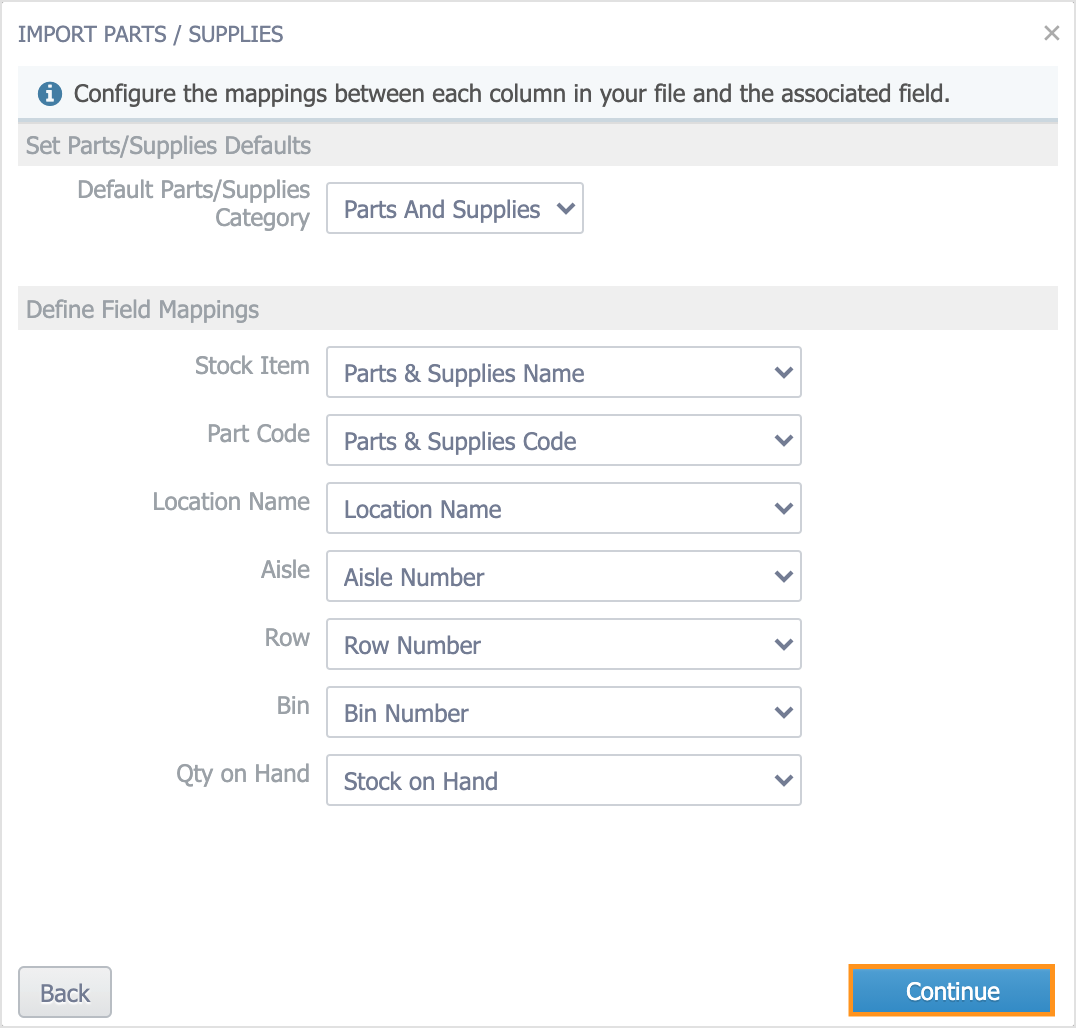 12. In the dialog that appears, select Use this answer for all future questions.
13. Click Update.
14. Review your results and do one of the following:
If you're satisfied with the analyzed results, click Import to continue.
If you need to change the analyzed results (for example, to map columns differently), click Back to make the necessary changes.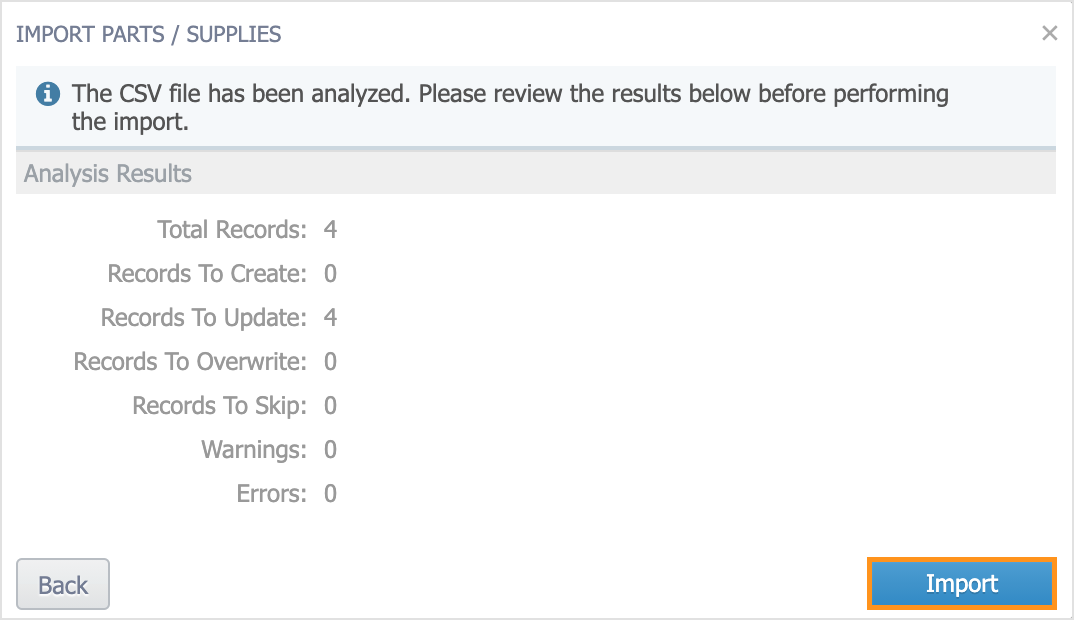 Note: A warning message may appear if multiple stock locations were added for the same part.
Once the import is finished, you can review the results in the parts and supplies list (in Supplies > Parts and Supplies).