Before you begin
Records that contain special characters (commas, quotation marks, etc.) can result in corrupted data, and can even cause imports to fail. We suggest doing a test import with only 2 or 3 records to ensure your formatting is correct. To learn more about special characters in import files, see Troubleshooting Imports.
You can't update Aisle, Row, or Bin information via import. This is because the Fiix import uses this information to uniquely identify a stock location (because there can be multiple stock areas at a single location).
Overview
This article will outline how to update stock locations and quantities using the import tool. First, export your Parts and Supplies records to a .CSV file. An export of the Parts Code, Parts Name, Aisle, Row, Bin number, and Location will be required. One way in which this can be done is by using the "Spare Parts List Report Excel" template in the Report section.
1. Navigate to Reports, filter on "Spare Parts List Report Excel", and select the report.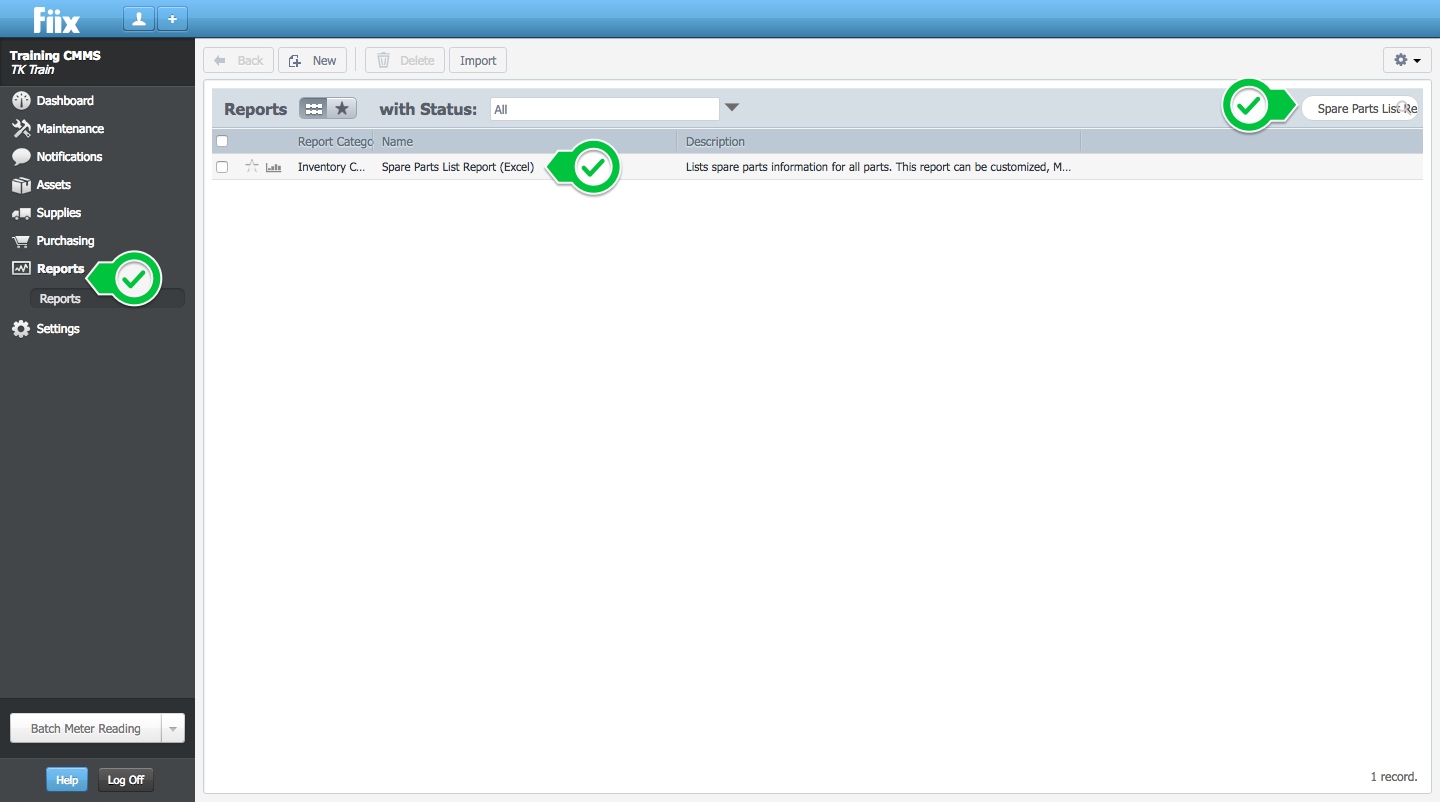 2. Select the Run icon.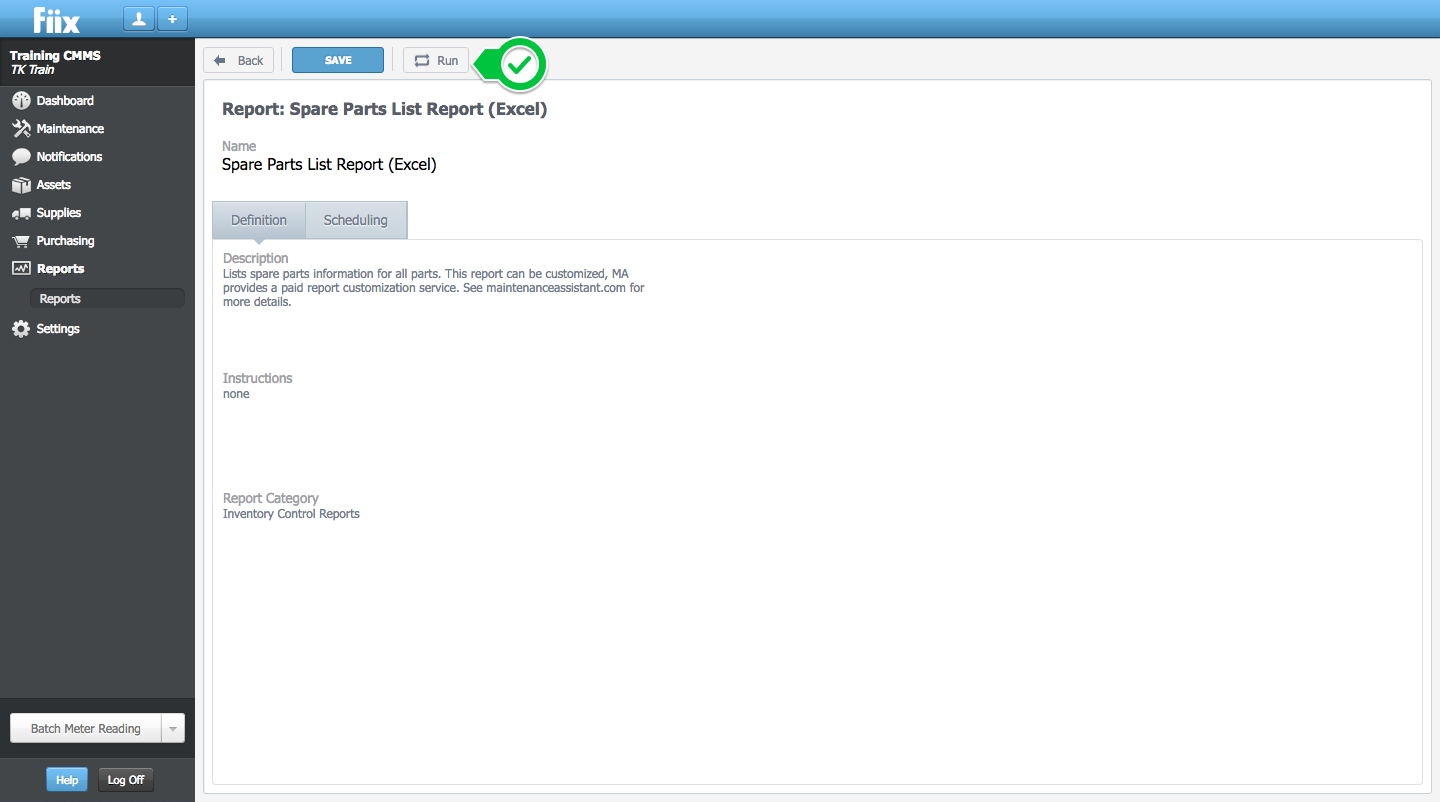 3. Within the Report Parameters, render in CSV format, and click Run.

4. Open the .CSV file in Excel, remove all of the columns except for the Parts Code, Parts Name, Aisle, Row, Bin, and Location Name, and filter out the parts you wish to update.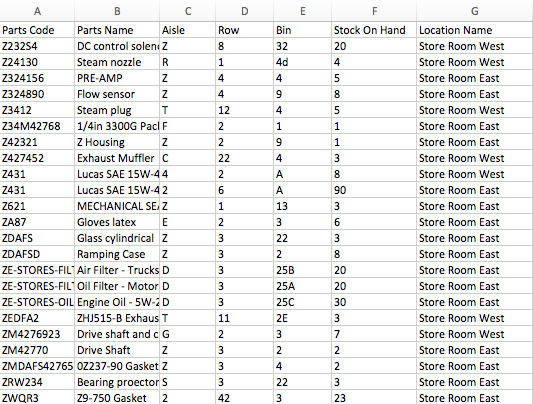 5. Add the Location Code corresponding to the Location Name, adjust Stock On Hand, and insert extra rows to identify additional stock locations if required.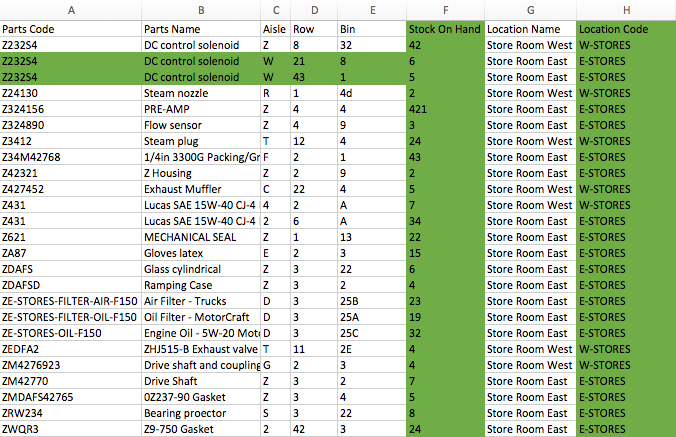 In the example above, the first Part is now going to have two additional stock locations, as seen by the additional entries for the same Parts Code. Also, the "Stock On Hand" column has been adjusted to updated quantities.
6. Once adjustments have been completed, save as a .CSV file. Select Supplies and Import.
7. Select Upload, choose the file and click Continue.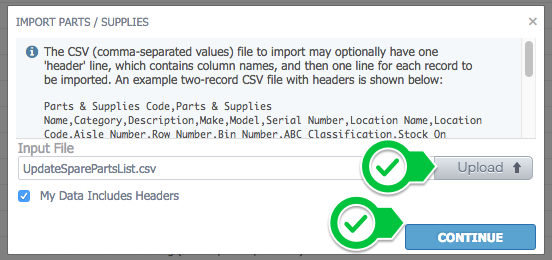 8. Define the field mappings by matching the header in your CSV file to the corresponding item from the drop down menu. The fields shown on the left are extracted from your file while the fields chosen through the drop downs are CMMS fields. Click Continue when finished.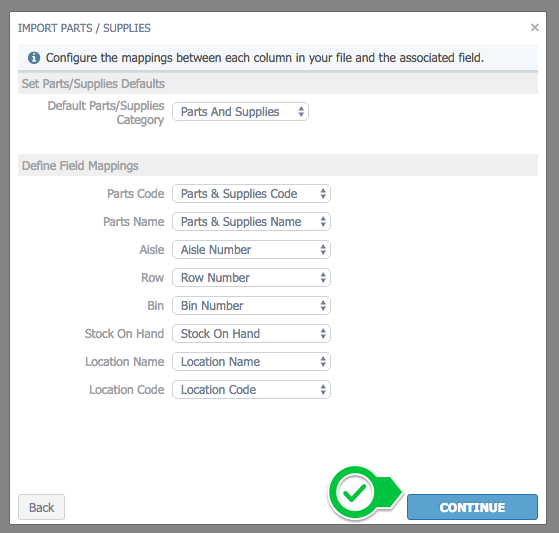 9. Select Use this answer for all future questions and click Update

10. Review your results. If multiple stock locations for the same part were added, messages will be displayed as per below. Click Import to proceed.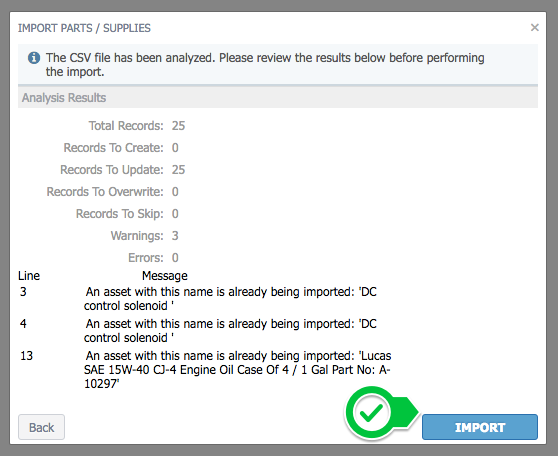 11. Click Done and check your results.