Before you begin
This article describes how to view the active work orders dashboard. To learn how to view the closed work orders dashboard, see View the Closed work orders dashboard.
Plans: Professional and Enterprise
Audience: Analytics viewers, users, and creators
The Active work orders dashboard shows risks for open work orders. You can use it to intervene in urgent, risky work orders while they're still in progress.
You can access the dashboard directly in the CMMS by navigating to Maintenance > Active Work Order Insights: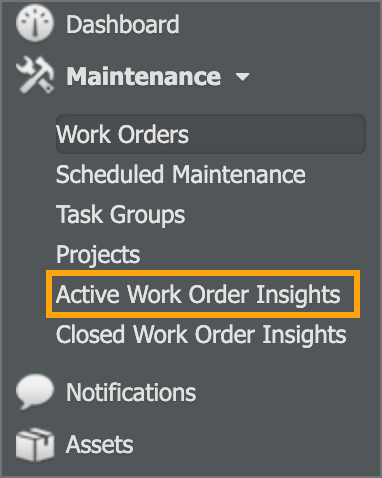 The application loads your dashboard for the current period: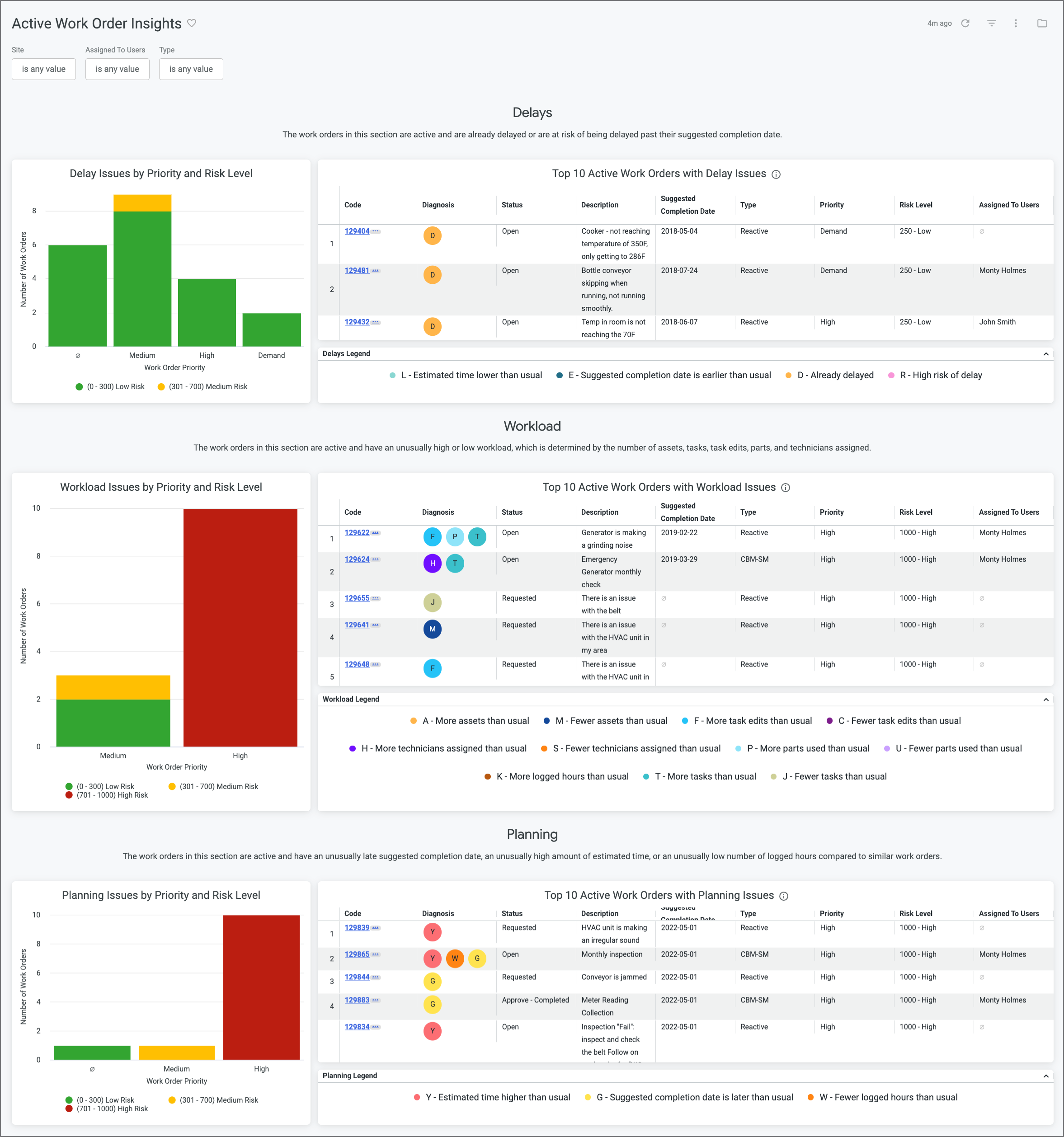 The dashboard is divided into sections for each of the risk types. Each section includes the following tiles that display information about the work orders that have been assigned diagnoses for that risk type:
Tile

Description

Issues by Priority and Risk Level

A column graph that shows the distribution of work orders by risk level and priority for that risk type.

You can use this information to determine the urgency of risks. For example, if your high-risk work orders all have a low priority, you might not be as concerned as if they were high priority work orders.

Top 10 work orders

A list of the 10 highest-risk work orders for that risk type. The work orders in this list are selected automatically based on both risk score and priority.

You can open the work order directly from the list by clicking the work order code, and then selecting Go to Work Order in the menu.
The list of top 10 work orders in each section contains the following columns:
| Column | Description |
| --- | --- |
| Code | The work order's code. You can click this link to open the work order. |
| Diagnosis | The issues that the algorithm found in this work order, under this risk type. To learn more, see Risk type and diagnosis definitions. |
| Status | The work order's status. |
| Description | The work order's description (which corresponds to the Summary of Issue field). |
| Suggested Completion Date | The work order's suggested completion date. This is considered the work order's due date. |
| Type | Shows whether the work order was generated from scheduled maintenance or whether it was created manually as an unscheduled work order. |
| Priority | The control for the work order's priority. |
| Risk Level | The risk level (low, medium, high) and the risk score assigned to the work order. |
| Assigned to Users | The users and user groups that are assigned to this work order. |
To learn more about the risk types and diagnoses, including what to consider for each one, see Risk type and diagnosis definitions.