Before you begin
Plans: Professional and Enterprise
Audience: Administrators and any other user groups with the necessary permissions assigned. To learn more about how permissions work, see About permissions.
Note: These instructions differ slightly depending on which version of user management you are using. Both versions are documented below.
Permissions required for this task (in v5 user management):
Page permissions: User and Users

Menu permissions: Can See 'Settings' Top Menu and Can See 'Users' Menu Item
Only users assigned an analytics seat (i.e. license) will be able to view looks and dashboards. This applies both to the looks and dashboards in Analytics and in our AI offerings such as Work Order Insights.
There are 3 levels of access for analytics seats:
Viewers, who can view looks and dashboards, but can't filter, download, share, edit, or create them.

Users, who can view, filter, download, and share looks and dashboards, but can't edit them or create new ones.

Creators, who have the same access as Users, plus the ability to create and edit new looks and dashboards.
The number of seats you have for each access level depends on the plan you're subscribed to. For your convenience, the CMMS displays the number of remaining seats for each access level directly where you assign access on the Analytics tab: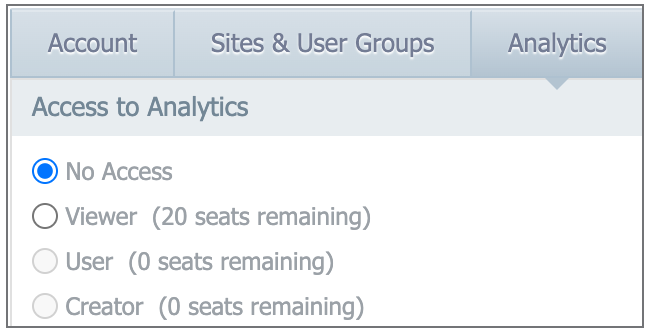 To assign a seat to a user:
Navigate to Settings > Users.

Click the user you want to manage access for.

Do one of the following:

If you're using v5 user management, click the Analytics tab:

If you're using v6 user management, click Analytics in the More drop-down list:


Do one of the following:

To remove access to analytics, select No access.

To allow them view-only access, without access to filter, share, create, or edit, select Viewer.

To allow them to view and filter, but not create or edit, select User.

To allow them to create and edit, select Creator.

Click Save.
Tips
You can see which users are assigned analytics seats using the Analytics Permissions dashboard. To learn more, see the Analytics Permissions dashboard section in the Dashboard library.
If a user is assigned a seat in analytics, you can set Analytics as their default login location (i.e. the first feature they see when they log in). To learn more, see Change a user's default login location.
If this user's account is later deactivated (i.e. the status is set to passive, inactive, or deactivated), their analytics seat is removed from their account automatically and returned to the "pool" of available seats. Additionally, their analytics content and schedules are deleted. To learn more, see the "Seats & Access" section in Analytics FAQ.