When you perform bulk actions for equipment, such as deleting multiple equipment records at once, you can view the action's status in the bulk action log: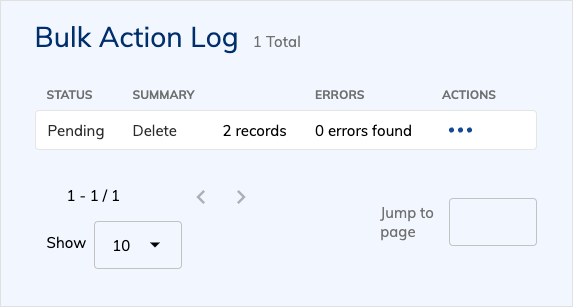 This means that while the bulk action is processing, you can navigate to other areas of the application, and then check back on the action's progress later.
You can view the log by clicking the bulk action icon:




This icon changes depending on the action's status:
Icon
Status

Completed, with no errors

Note: This icon is also displayed when there are no bulk actions in the log.

In progress
Completed, with errors

To manage bulk actions:
Click the bulk action icon:

Do any of the following:

To dismiss a completed bulk action that you've already viewed, click the ellipses button in the Actions column and then click Dismiss:

To see which records had errors, click the link in the errors column:

The records with errors are displayed in a list:


When you're finished, click Close Bulk Action Log.