This article answers frequently asked questions about the different Fiix plans and how to pay for your subscription:
The payment period begins on the day you start your plan, and will automatically renew each month or each year on the same date.
To find your payment renewal date, navigate to Settings > Account Settings.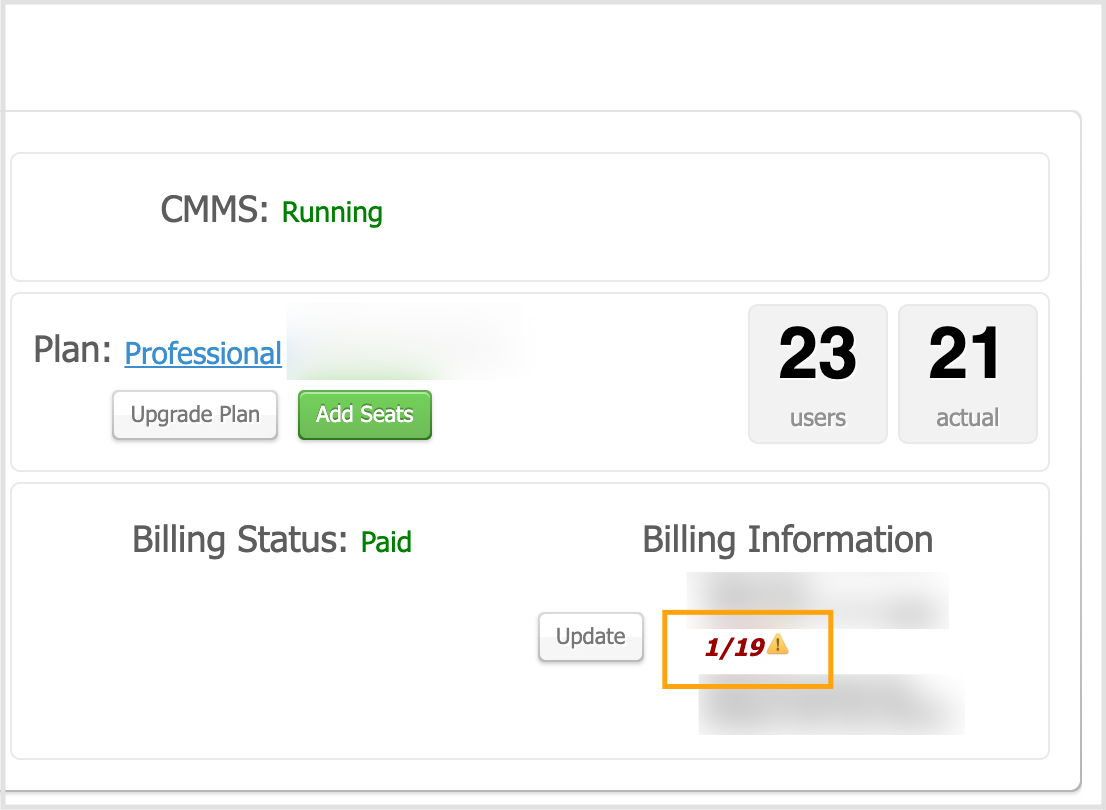 If your credit card payment fails, your subscription lapses, or you have another payment issue, you have 15 days (on an annual plan) or 5 days (on a monthly plan) to adjust your payment details.
After the grace period ends, your account will be deactivated.
To reactivate a deactivated account, Contact support.
While there is no limit to the number of files or records you can add to your CMMS, your files and records count towards your overall storage space.
Free and Basic plans receive 5 GB of storage space.
Professional and Enterprise plans receive 10 GB of storage space.
Individual files and records are limited to a maximum size of 100 MB each.
To find out how much storage you've used or have left, or to make adjustments to your storage amount, you can Contact support.
Seats refers to the number of user licenses available in your CMMS. Each seat is a paid license that allows one additional user to be an active contributor to your CMMS.
Active users refers to users who are currently able to log in and actively contribute to your CMMS, whether by adding new equipment, changing asset statuses, or closing work orders. Removing an active user does not affect your number of seats (licenses), but frees up a seat for a new active user to be added.
Users is used to refer to anybody with access to the CMMS. However, on the Account settings page, users refers to the number of seats available, while actual refers to the number of active users.
To learn more about seats, or to add more seats to your CMMS, see Add user seats (licenses).