Note
After installing this update, iOS users must log in to the app again.
We've made the following enhancements to our mobile apps:
As of this release, we have updated the minimum supported versions for the Android and iOS operating systems:
For Android, the minimum supported version is 1.22.0.

For iOS, the minimum supported version is 1.25.0.
If you're using an earlier version of the app, please upgrade to a supported version.
This feature is currently only available for selected beta users.
You can now view all active work orders in the mobile app using the All active work orders filter: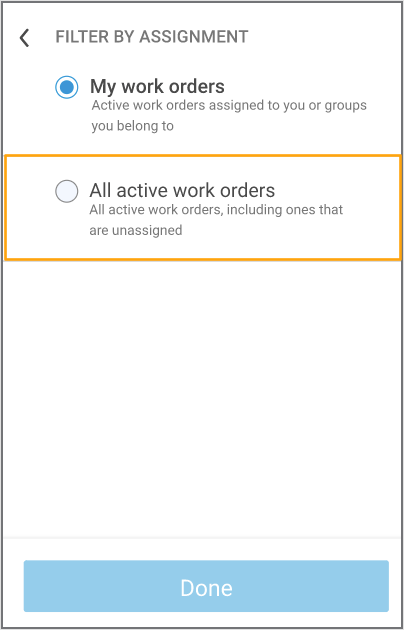 To view this feature, a user group must have the Can Access The 'Work Orders Administration Page' permission enabled. For a step-by-step description of how to enable this permission, see Enable viewing work requests in the mobile app.
If you don't have the necessary permission, or if your organization has more than 7000 active work orders, you will see the My Team's Work filter instead. This displays both your work orders and the work orders of those who report to you.
To view this feature, you must log out and log in again after installing the update.
You can now open the Fiix mobile app by scanning asset QR codes in a third-party app.

Miscellaneous bug fixes.