This release includes the following changes:
You can now configure the CMMS to separate line items for the same stock in purchase orders and RFQs, which allows you to enter a separate unit price and tax rate for each line.
By default, when you add multiple line items for the same stock, they're grouped and have a single unit price and tax rate:

To separate the line items on new RFQs and POs, select the new Enable stock disassociation in POs and RFQs checkbox (located in Settings > CMMS Settings > Purchasing):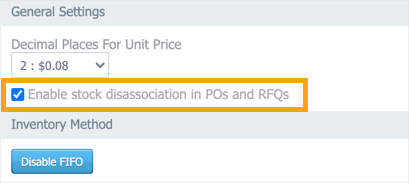 Note
This setting will not affect your existing POs and RFQs. It will only be applied to new POs and RFQs going forward.
When this checkbox is selected, the line items are separated, and you can enter a separate unit price for each:

The following bug was fixed in this release:
Zendesk ID

Description

47648, 49037, 50403, 50551

Fixed an issue that occurred when users added existing shared dashboards to their own Dashboard. Although the shared dashboard displayed all the widgets that were configured for it, the widget names and filters were not applied.

This issue only occurred when users added the shared dashboard themselves. It did not occur if the shared dashboard was automatically assigned to them via their user group.