Overview
When adding a scheduled maintenance trigger you have the option to generate a work order by time schedule, meter reading, or event trigger. Time and meter reading based triggers can be either fixed or floating. It's important to understand the differences between a float and fixed scheduled maintenance trigger.
Fixed
A scheduled maintenance work order is generated at a fixed interval set by the user, irrespective of when the last scheduled maintenance was completed.
Example: A fixed scheduled maintenance work order is generated every Monday. This means that every Monday this preventive maintenance (PM) will trigger regardless of when the last one was completed (also assuming no existing PM work order is still open). So, if the work order was closed on the Friday, the new work order will trigger three days later on the Monday regardless.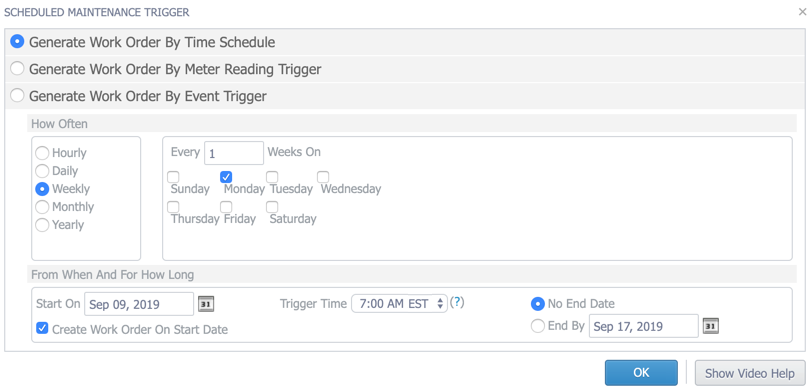 Advantages of fixed time intervals
You can easily tell how many scheduled maintenances are missed.

For organizations with a large amounts of scheduled maintenances, fixed intervals helps you spread them out evenly and plan resources. For example, you could block book a subset of your technicians for X hours per day to focus on scheduled maintenances.

Fixed are suited to shorter intervals – Daily and weekly.

They encourage compliance. If technicians have the luxury of pushing scheduled maintenance out, they will postpone them and focus on reactive repairs. This will kill your compliance.

Fixed intervals are used to enforce warranty requirements. If you don't maintain a piece of equipment as the manufacturer recommended, they won't stand by their warranty.
Floating
The scheduled maintenance trigger generates a work order at an interval that moves according to when the last scheduled maintenance work order is closed.
Example: A floating scheduled maintenance on a motor vehicle is generated by a meter reading trigger every 10,000 miles. The driver can't get the vehicle to the shop for a few weeks. When they do, the car has 12,000 miles on the clock. The work order is closed and the trigger floats to this new start point of 12,000 miles, meaning the next service is due at 22,000 miles.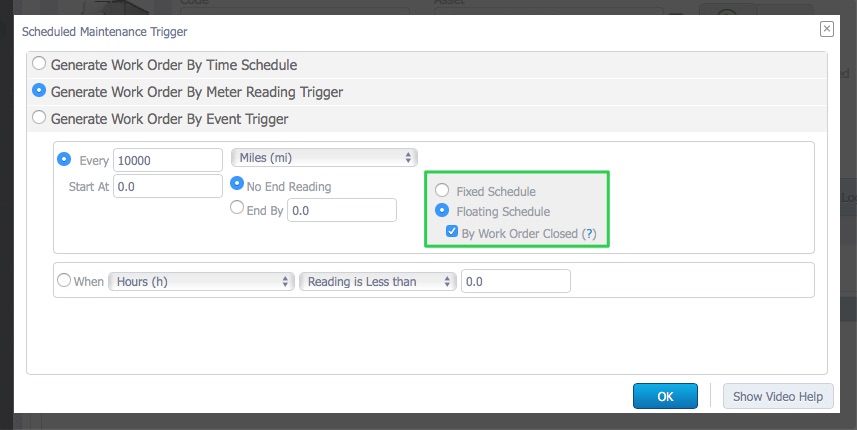 If in this example, the trigger was set to fixed, the next work order would trigger at 20,000 miles, regardless of the delay in getting the vehicle serviced. Your scheduled maintenance interval would be 12,000 for the first schedule, and 8,000 for the second.
Note: If you select the checkbox By work Closed, the trigger will reset the moment the work order is closed. If you log a meter reading during the work order, this will be the new start time.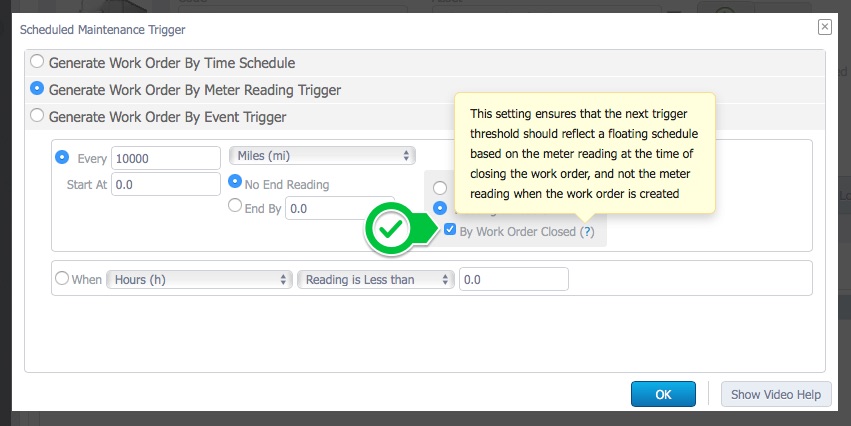 Advantages of float time intervals
Floating intervals are ideal for scheduled maintenance that's spread further apart, where a few extra days won't cause any major damage.

Floating intervals are ideal for low priority, mundane scheduled maintenance tasks that need to be completed on a regular basis but not necessarily on time. For example, checking drains for any sign of build-ups that could cause blockages.

They are also ideal for situations where late scheduled maintenance will not affect the safety of the equipment or personnel that operate it.
Read more on our blog.