This dashboard shows your data quality metrics for active work orders that were created in the past 3 months. You can use this information to identify gaps in work order data. Filling in these gaps can improve your planning and maintenance efficiency, as well as increase the accuracy and impact of the insights generated via AI (Work Order Insights, Asset Insights, etc.).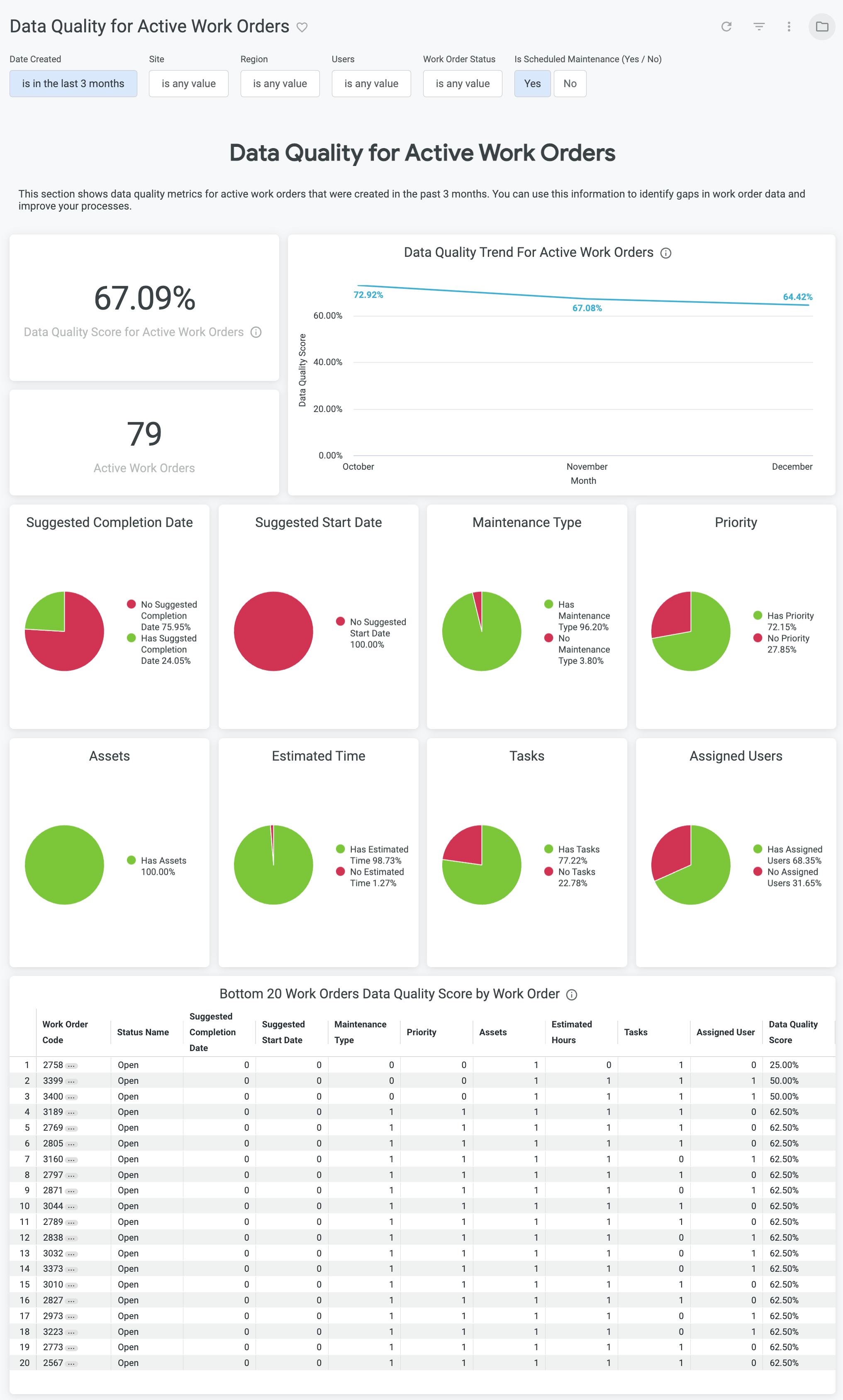 Note: The dashboard only includes work orders in an active state; once a work order is moved to a closed state, it is no longer included in these metrics.
You can filter this dashboard by:
Date created
Site
Region
Users
Work Order Status
Is Scheduled Maintenance
The dashboard contains the following tiles:
Tile
Description
Data Quality Score for Active Work Orders
The overall data quality score for your active work orders, based on how many of the 8 fields we consider (i.e. the ones listed in the pie charts) are filled out.
Data Quality Trend for Active Work Orders
Shows the trend in data quality score over time. This allows you to see if your processes are improving, or whether they need additional changes.
Active Work Orders
The total number of active work orders from the selected period. By default, this is 3 months.
Suggested Completion Date

Pie charts showing the percentage of active work orders that have that particular data.

For example, the Assets chart shows what percentage of your active work orders have assets associated with them.

Suggested Start Date
Maintenance Type
Priority
Assets
Estimated Time
Tasks
Assigned Users
Bottom 20 Work Orders by Data Quality Score

Lists the bottom 20 work orders based on how much data is filled out. Cells with "0" do not have that field filled out; cells with "1" do have that field filled out.

To edit the work order and add the missing data, click the link in the work order code column.