Before you begin
Plans: Professional and Enterprise
Audience: Administrators and any other user groups with the necessary permissions assigned. To learn more about how permissions work, see About permissions.
Permissions required for this task:
Page permissions: User, Users, User Group, and User Groups

Menu permissions: Can See 'Settings' Top Menu, Can See 'Users' Menu Item, and Can See 'User Groups' Menu Item
If your organization is going to use analytics, you must first enable the feature for the users that need access to it. There are 2 main steps to enabling the feature:
To learn how to complete these two steps, see the sections below.
This first step displays Analytics in the feature menu for any users you assign seats to in Step 2.
To enable analytics for a user group:
Navigate to Settings > User Groups.

Click the user group you want to enable the feature for.

Click the Menu Permissions tab.

Select the following checkboxes:

Can See 'Analytics' Top Menu, which enables the top-level menu item for analytics.

Can See 'Analytics' Menu item, which enables the second-level menu item for analytics.

Click Save.

Repeat steps 2-5 for any other user groups that contain users who need access to analytics.
The second step is to assign a seat (i.e. license) to any users you want to give access to. There are 3 levels of access for analytics seats:
Viewers, who can view looks and dashboards, but can't filter, download, share, edit, or create them.

Users, who can view, filter, download, and share looks and dashboards, but can't edit them or create new ones.

Creators, who have the same access as Users, plus the ability to create and edit new looks and dashboards.
The number of seats you have for each access level depends on the plan you're subscribed to. For your convenience, the CMMS displays the number of remaining seats for each access level directly where you assign access on the Analytics tab: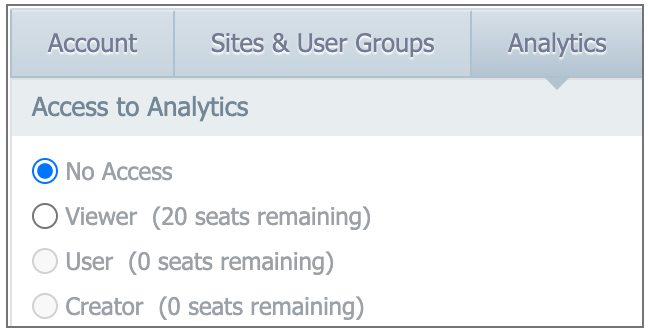 To assign a seat to a user:
Navigate to Settings > Users.

Click the user you want to manage access for.

Click the Analytics tab.

Do one of the following:

To remove access to analytics, select No access.

To allow them view-only access, without access to filter, share, create, or edit, select Viewer.

To allow them to view and filter, but not create or edit, select User.

To allow them to create and edit, select Creator.

Click Save.
Tip
You can see which users are assigned analytics seats using the Analytics Permissions dashboard. To learn more, see the Analytics Permissions dashboard section in the Dashboard library.