This release includes the following changes:
You can now view part descriptions and search for a part by its description in More > Parts.
You can now set the order of priorities in the Priorities lookup table, and this order is displayed in the work request portal form's Priority drop-down list. You must update this order in the lookup table for it to be reflected in the work request portal.
To reorder a priority, click the Reorder icon (

) and drag and drop the priority to its desired location in the lookup table: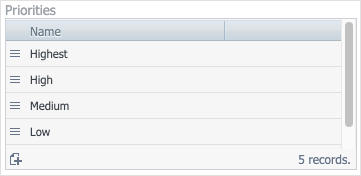 Click Save in the top left of the page when you are done.
The following bugs were fixed in this release:
| ID | Description |
| --- | --- |
| – | Fixed an issue in the Android app where the app would crash when uploading a file. |
| – | Fixed an issue in the Android app where the app would crash when some users navigated in an asset's Details tab. |
| – | Fixed an issue in the iOS app where the Sync icon would rotate even when the app wasn't syncing. |
| – | Fixed an issue in the iOS app where the Sub assets link would not display in the asset picker page. |
| – | Fixed an issue in the iOS app where a part's attached image would not be updated when an existing photo was replaced in the web app. |
| 39318, 45355, 48245, 48521, 51098, 56351, 56912, 58153, 60209, 62751 | Fixed an issue where users were unable to attach files directly to tasks. |
| 36700 | Fixed an issue where, in tenants with Business Tracking enabled, users attempting to update multiple fields received an error. |