Before you begin: Only managers and administrators can complete these tasks. To learn more about more basic dashboard tasks, see Using Your Dashboard.
The ability to create and maintain dashboards is controlled by the dashboard your user group is assigned in Settings > CMMS Settings > Dashboard Permissions. Only user groups assigned the standard Administrator or Manager dashboards are able to create and delete shared dashboards. Depending on how edit permissions are configured, these could also be the only users that are able to edit dashboards.
To indicate that these standard dashboards also grant permissions, they are labelled with an asterisk in the list: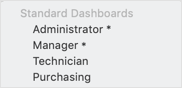 To learn more, see Configuring dashboard permissions.
This article describes the following manager and administrator tasks:
Add a dashboard
If necessary, you can add existing dashboards (standard or shared) to your view. For example, you might want to add the Purchasing dashboard to your view, rather than having to add those widgets to your existing dashboard.
To add a dashboard:
Click the

+ button at the far right of the dashboard tabs:


Click the Add button below the dashboard you want to add.

Tip: You can tell standard and shared dashboards apart, because shared dashboards have a darker grey background and the shared dashboard icon ().
Create a dashboard
You can create two kinds of dashboards:
Blank dashboards, which are personal to you and can't be shared with any other users.
Shared dashboards, which you can assign to other users.
To create a dashboard:
Click the

+ button at the far right of the dashboard tabs:



Do one of the following:

To create a blank dashboard (that is not shared), click Blank Dashboard.
To create a shared dashboard (that you will assign to user groups), click the Create button in the New Shared Dashboard section.

If you created a shared dashboard, select a template to base your new dashboard on. You can either select one of the existing dashboards to automatically add its widgets to your dashboard, or select

Blank Dashboard

to create a completely blank (shareable) dashboard.
Once you've created your dashboard, the app displays the edit controls. To learn about editing dashboards, see Edit a dashboard below.
Edit a dashboard
All users with administrator or manager access (in other words, users who are assigned the standard Manager or Administrator dashboard) can edit dashboards. Depending on how dashboard permissions are configured, additional users might also be able to edit dashboards. To learn more, see Configuring Dashboard Permissions.
If you just created a dashboard, the app automatically opens the edit controls. If you're editing an existing dashboard, click the edit icon to open the editing controls:

You can make any of the following changes:
To rename the dashboard, type a new (unique) name.

To add a widget, click the

Add Widget

button, then click the

Add

button under a widget.

To move a widget, drag and drop it to the appropriate place.

To resize a widget, drag the bottom right corner (marked by a blue triangle) to the appropriate size.

To remove a widget, click the X

icon in the widget's header.
Delete a dashboard
The process for deleting dashboards differs slightly between standard and shared dashboards. For standard dashboards, you're only ever deleting the dashboard from your view. You'll still be able to re-add it later, and other users will still be able to access it.
However, for shared dashboards, there are two ways to delete dashboards:
Delete from view

, where the app removes it for you, but preserves it for all the other users it's shared with. This could be useful for administrators and managers who need to create dashboards for other users, but don't need to use the data on these dashboards themselves.

Delete permanently, where

the app removes the dashboard for everyone it's assigned to. It gets deleted from the database entirely and cannot be retrieved. This could be useful in cases where a dashboard was created in error and nobody should use it.
Note: Any dashboards that you're assigned based on your user group(s) will be re-added the next time you log in.
To delete a dashboard:
Click the

edit

button.

Do one of the following:

To delete a standard dashboard, click the Delete Dashboard button.
To delete a shared dashboard, click Delete Dashboard, and then click either Delete from view or Delete permanently. See the definitions above for more information.

Click Proceed.